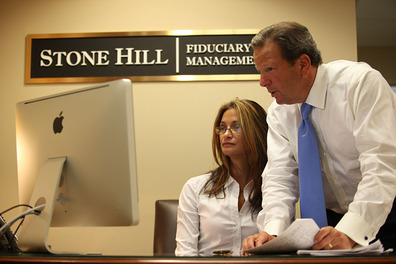 Stone Hill Fiduciary Management's sole business is to provide non-discretionary or discretionary investment advisory services and plan administration fiduciary services to retirement plan sponsors. We have no other business activities and no financial industry affiliations.
Impartial advice has become increasingly important to plan sponsors when selecting and monitoring plan service providers and investments. Stone Hill Fiduciary Management enables plan sponsors and retirement plan committees to delegate fiduciary decision-making and reduce their involvement in plan administration and plan asset investment.
Fiduciary Structure: We establish an ERISA Sections 3(21)/3(38)/3(16) full-service fiduciary solution and compliance strategy to manage plan sponsor responsibility.
Full-Scope Advisor: We act as a full-scope Registered Investment Advisor under ERISA Section 3(21), accepting fiduciary responsibility for fund recommendations.
Investment Manager: We act as an Investment Manager under ERISA Section 3(38), accepting fiduciary responsibility for selecting, monitoring, and replacing investments.
Managing Fiduciary: We act as Plan Administrator under ERISA Section 3(16), making fiduciary decisions for selecting, monitoring, and replacing service providers. We enable plan sponsors to outsource plan oversight and eliminate service conflicts of interest.
Named Fiduciary for Plan Administration: We act as Named Fiduciary under ERISA Section 405(c), directing record keepers, scrutinizing plan transactions, reviewing custodial statements, approving Form 5500 for signature, and evaluating and approving plan service fees.
Named Fiduciary for Plan Investment: We carry out decisions voted of the retirement plan committee and thus direct corporate trustees and custodians as to fund replacement, deletion and addition.
Procedural Prudence: We establish best practices for retirement plan committees and document fiduciary decisions made by the retirement plan committee in committee meeting minutes.
Retirement Plan Committee: We send quarterly fund performance monitoring reports as well as at least annual advisor reports to the retirement plan committee noting plan management, plan operation, fund performance and the resolution of voted decisions and agreed upon action item.
Board of Directors: We certify to the board that the retirement plan committee has properly carried out its fiduciary duties regarding plan compliance and governance activities. We help retirement plan committees mitigate fiduciary risk related to their retirement plans.
Plan Sponsor Education: We educate employers on fiduciary governance and create a reporting and supervising system to monitor fiduciary decisions and plan activities.
CFO and HR Responsibilities: We relieve CFOs and HR staff from spending valuable time on fiduciary decision-making, plan management, and plan oversight responsibilities.
Value-Based Fee: We charge fees for plan administration oversight, plan investments, and fiduciary services commensurate with fees that other advisors charge solely for plan investment services. There are currently no clients with an asset-based fee arrangement; all clients have a fixed fee, payable from the plan or the employer.