Plan sponsors should never rely upon the advice of a non-fiduciary service provider, no matter how large or reputable, as conflicts of interest can and will arise. Stone Hill Fiduciary Management's fiduciary service model enables plan sponsors to delegate plan investment and administration responsibilities to a Named Fiduciary, thereby avoiding: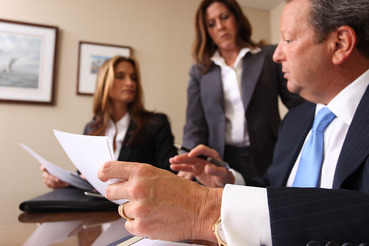 Fiduciary Violations
Excessive Plan Fees
Forms 5500 Responsibility
Fiduciary Decision-Making
Representations to Auditors
Operational Non-Compliance
Conflicts of Interest/Self-Dealing
Fee Monitoring and Fee Negotiation
There is a real need for independent ERISA fiduciary advisors who plan sponsors can trust to manage their plan assets and plan administration. Our fiduciary service model provides directors, officers, and human resource managers with benefits and protections not readily available in the retirement plan marketplace.
We are ERISA fiduciaries. We cannot maintain a conflict of interest nor can we self-deal. We must act in the best interest of the plan and for the exclusive benefit of plan participants.
We do not receive economic benefits from non-clients for providing investment advice or other advisory services to clients. Further, we do not compensate anyone for client referrals.
As ERISA fiduciaries, we relieve board members, retirement plan committees, CFOs, and human resource managers from having to make and execute fiduciary decisions. The designation of an independent Named Fiduciary focuses on the responsibility, as well as the liability, to properly manage the plan for the benefit of plan sponsors and plan participants.
Our clients receive the ERISA standard of care, rather than the common law fiduciary standard applicable to registered investment advisors and other non-ERISA fiduciaries or the suitability standard applicable to brokers and other non-fiduciary service providers. Under those legal standards, advisors and brokers may maintain a conflict of interest.
Most service providers are non-ERISA fiduciaries that make no representations, assume minimal legal responsibility or none at all, and significantly limit their liability for actual plan operation. Stone Hill Fiduciary Management, conversely, accepts full responsibility for the services we perform for plan operation, plan investment, plan administration, and fiduciary decision-making.
Stone Hill Fiduciary Management reviews the plan's investment account performance against investment objectives that are articulated by the investment management policy and guidelines statement for the plan. These reviews take into consideration market performance for similar investments.
We also review matters relating to actual operation and administration of the plan against terms set forth in the plan document and vendor agreements to confirm compliance with ERISA.